Tasmanian Tiger MKII Tac holster!
Review:
Hi guys!
I am reviewing the Tasmanian Tiger MKII Tac Holster.
This is my favorite holster for now in my 7+ years of airsoft-sniper experience and this review explains why.
I thank my Sponsor BFG OUTDOORS for providing this holster and good service!
Specifications:
Fabric: CORDURA 700Den (100% Polyamide)
Weight: 190 Grams
Fully adjustable with velcro
MOLLE system
Price: 29 Euro
-1-
As you guys can see, the holster is very versatile!
You can adjust how deep your secondairy should get in your holster
by just using the velcro-strip.
-2-
On the first picture you can see the opened front side of the holster, 
as you can see the "holster-closing strip" is velcro adjustable, it will fit very firmly!
The whole holster is velcro so you can adjust it to the size of your secondairy.
It doesn't mather how small/big it is or even with a flashlight attached on it, it will fit!
On the Second picture you can see this is a MOLLE system holster, 
the holster fits your molle system very tight, 
also will the the inovative MOLLE-attach button secure your MOLLE with more capability.
With this way your MOLLE will not get loose and will always be secured. 
-3-
The side of the Holster also has a single MOLLE row,
which makes it possible to attach a MOLLE pistol mag pouch.
-4-
Let's get a closer look on the Pistol Securing system.
There are 2 ways:
                  1- You "click" in the button for the hardest attachment,
                      what gives in my opinion the fastest draw of your pistol.
                  2- You release the velcro pad from the velcro strip,
                      you can use this to attach it the the other velcro pad as shown on the picture.
-5-
The pistol draw is going very fast and easy by pushing your thumb down-left 
after doing that, the button is released and you're ready for an immediat pistol draw.
-6-
What makes this holster very interesting for many people is the adjustability!
This is a TM MK23 Replica with a Large supressor on it, i could hardly find a good holster for this pistol.
Until i met the Tasmanian Tiger mk2 holster from BFG Outdoor.
It's even possible to pull out this big pistol smoothly with it's big supressor without having any obstructing parts.
Also holstering it goes very easy and smooth without any problem.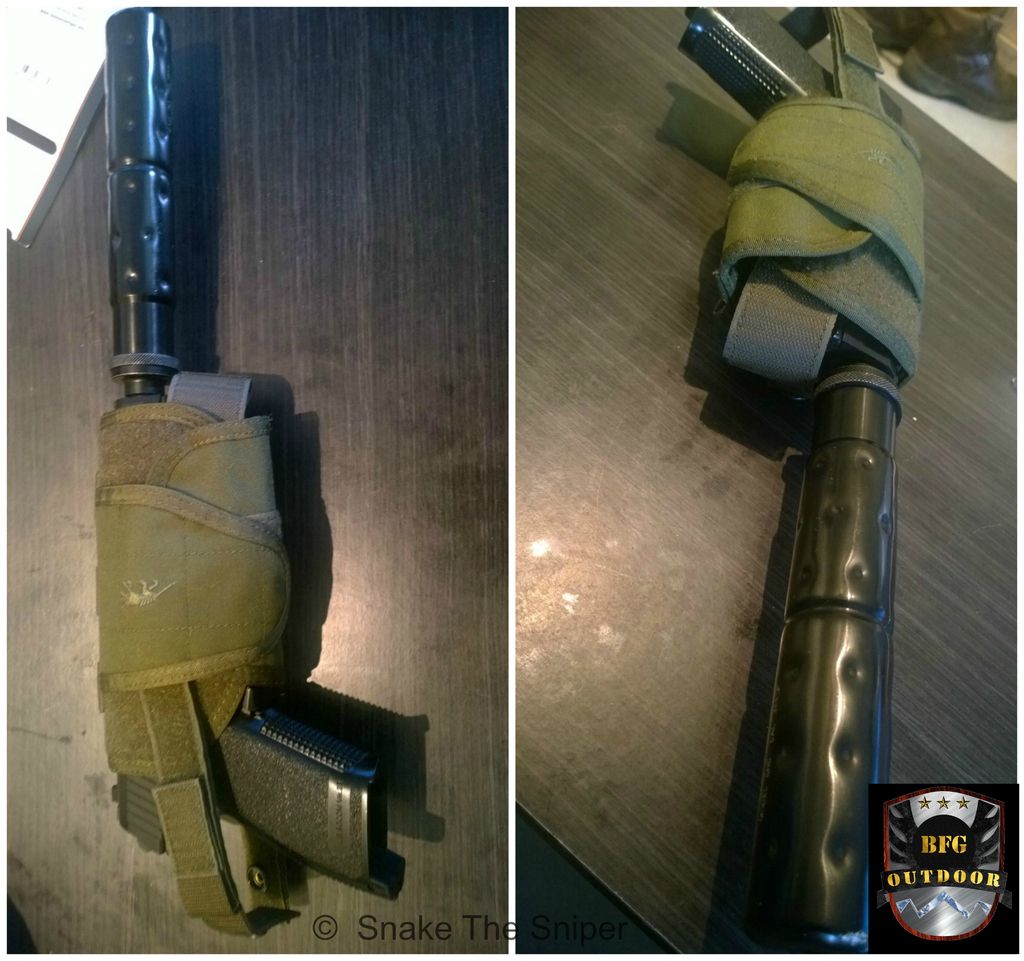 -7-
Here you can see how i used it for the very first time, 
i was very happy that day and i still am! 
I hope i could help you guys out with this review.
Thanks for checking it out!
Also check out my page and my sponsor's page.
Snake The Sniper: https://www.facebook.com/SnakeTheSniper
BFG Outdoor: https://www.facebook.com/BFG-Outdoor-1417151935244602